The bike is a mean of transport that plays an important role in the Barcelona daily mobility. If you want to see Barcelona from a different, rapid and healthy way do not hesitate to choose this mean of transport.
Barcelona is a city which by its nature, most of the streets are almost flat and up hills are not very steep, and if we add its 180 kilometers of bike path it makes it ideal to ride bicycles.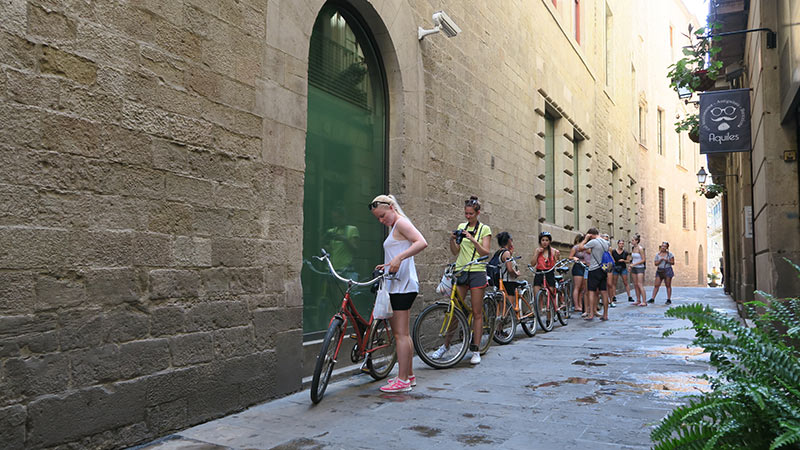 There are many companies that rent bikes and many of them offer guided tours in all languages.
Approximate prices of the cheapest bikes, in most stores prices are similar:
3 hours rental 8 € depending on the type of bike
4-8 hours rental 12 € depending on the type of bike
Rental 24 hours 16 € depending on the type of bike
1 weeks rental: 55 € depending on the type of bike
Here we propose two companies but there are many more in Barcelona.
Bikerental Barcelona
Address: Montserrat, 8 08001 Barcelona
Phone: +34 666 057 655
E-mail: info@bikerentalbarcelona.com
Web: http: //www.bikerentalbarcelona.com

This store provides a delivery and pick up service in the place you want, this is especially convenient because it will save time.
They also offer guided tours with bikes in Barcelona.
Click here to check its tours :
Bikeceloning – Bicycle Rental
Address:  Nou de la Rambla, 15 08001 Barcelona.
Phone: +34 651 89 41 41
E-mail: info@bikeceloning.com
Web: http: //bikeceloning.com/es/