The Ciutadella Parc
In this park we will discover many ways to have fun by doing and seeing things very interesting. It is rich in activities for families with children but also to disconnect from Barcelona urbanite enjoying its environment.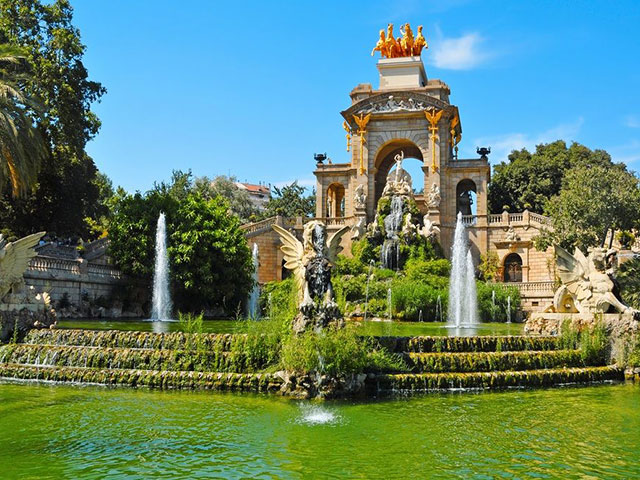 History: The Ciutadella Parc is one of the largest and most traditional parks of the city. It is built on the site of the ancient fortress and has been elected for the celebration of the Universal Exhibition of 1888. It has the distinction of having been for many years the only public park in Barcelona. Today it is one of the so-called lungs of the city.
What to do in the Ciutadella Parc?
Many people come to the park just to relax and unwind. You can have a nap in a summer day under one of its centenarian trees, delight the flowers in spring or take a bike ride.
There are lots of activities organized by associations or groups of Barcelona such asTai-chi, gymnastics, relaxation, etc … very possibly if you stroll through this park you can participate in activities that are being performed at that time in the park.
You can also stroll by boat on the lake in the center of the park, boat rentals are between 5 and 10 euros per boat with a capacity of 1-6 people.
What to see in the Ciutadella Parc?
– Zoology museum (Castle of the Three Dragons)
– Parliament of Catalonia
– The greenhouse
– The European Museum of Modern Art
– Zoo of Barcelona
Barcelona Zoo (very pretty picture of barcelona tourist with dolphins)
In the Barcelona Zoo are living over seven thousand four hundred animals of different species. The visit becomes a living spectacle through habitats around the world, discovering its fauna: primates, cats, tropical birds, dolphins, etc … Zoo facilities are ideal for families to enjoy an unforgettable day.
Barcelona Zoo offers a variety of educational wildlife programs to children and adults. Within its facilities we can, among other things, see the dolphins show which we strongly recommend, spy life of the mandrels or (the smallest monkeys in the world) marmosets, laugh with the seals or discover tropical birds. Children will enjoy the petting zoo, where they can get in contact with farm animals, they can ride o poney or play in the large playground.
Where it is located: Parc de la Ciutadella / Passeig de Picasso # 21
Metro L4 (yellow line) to Ciutadella-Vila Olimpica
Web: www.zoobarcelona.cat
hours:
From 1 January to 29 March, daily from 10am to 17h.
From March 30 to May 15, daily from 10am to 18pm.
May 16 to September 15, daily from 10am to 19pm.
September 16 to October 25, daily from 10am to 18pm.
From October 26 to December 31, daily from 10am to 17h.
December 25, open until 14pm.
The labyrinth of Horta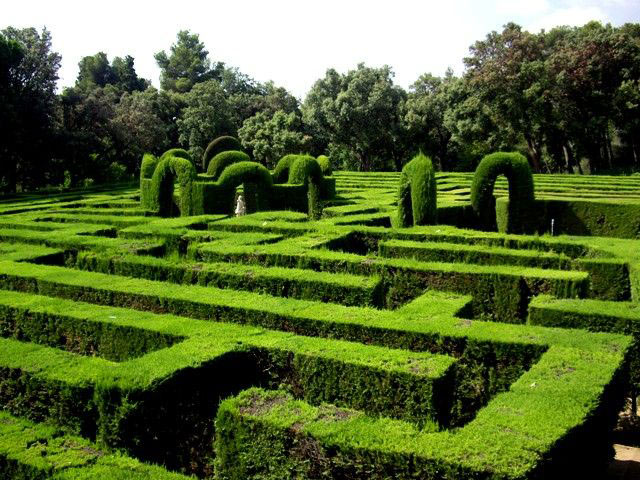 When the heat strikes in Barcelona, the labyrinth of Horta is an ideal place to lose yourself in its greenery and freshness. It is very close to the sierra of Collserola and it includes a neoclassical garden of the eighteenth century. The park is distributed in three levels as stepped terraces. At the bottom part is the star of the park, the labyrinth, in which you could lose yourself and play to find the way out through its cared cypresses.
Curiosities: ponds, fountains and water features that are located in this park are protected by the city of Barcelona to maintain their water unchlorinated to favor the recovery of protected species of amphibians like the green frog, toad or Pippin .
Where it is located : Passeig dels Castanyers, 1 – Barcelona / metro L3 (green) P. Mundet.
Free access: Wednesdays and Sundays. The other days cost about 2.50 euros.
Hours: from 10.00 to 21.00 in summer and 10.00 to 19.00 in winter.
Garden Palau Robert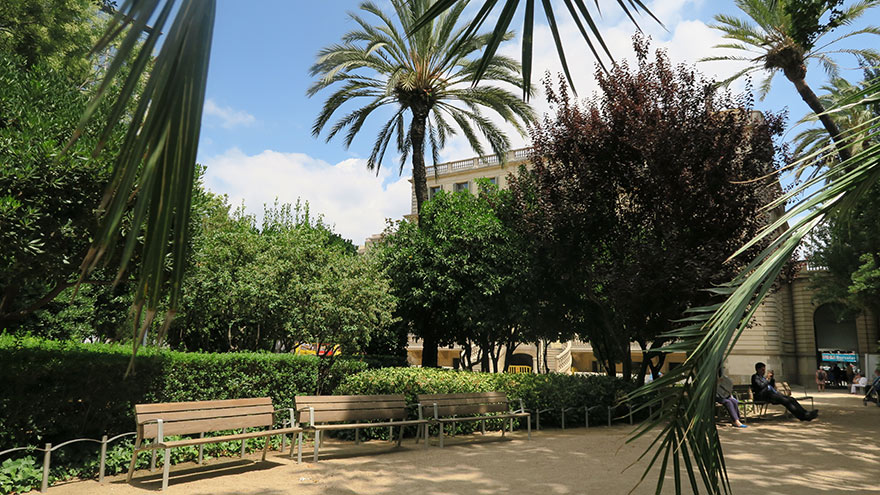 The Palau Robert is a neoclassical building built by the Marquis Robert between 1898 and 1903. Now the building belongs to the Generalitat de Catalunya, and hosts a permanent exhibition room, a space for concerts, the tourist office and some gardens open to the public.
The gardens: They are located in the heart of Barcelona, beside the Passeig de Gracia and Diagonal avenue, these gardens are small but very nice, a haven of peace and tranquility amid the bustle of the city. Palm trees and plants will make a pause in these gardens in order to load the batteries to explore te rest of the city.
Concerts: Concerts are free and are held on Thursdays during the first 3 weeks of July.
Where it is located: Passeig de Gracia, 107 – Diagonal Metro L3 (green) and L5 (blue)
Open Monday to Saturday from 10 h to 20 h. Sundays and holidays from 10 h to 14.30 h.
Cactus garden of Montjuic
This garden is a well kept secret, it is considered one of the most beautiful cactus gardens in Europe and is one of the less known by tourists who visit Barcelona.
vegetation
In this garden are gathered about 800 species of cactus and tropical plants from around the world and many of them centuries old. You will find sub-desert species as well as desert and tropical ones, good location is crucial for conservation because it has a privileged orientation that protects the garden from the cold winds.
From its location you can enjoy excellent views over the sea and the port of the city of Barcelona.
Curiosities: In 1987 a reporter from the New York Times included the Gardens of Mossèn Costa i Llobera in the top ten of the top ten gardens in the world. He also mentioned in his article that he felt very lonely during his visit to this exquisite collection of cactus and succulent plants.
Where it is located: Miramar Road # 1 Montjuic, near pl. de l'Navy
Open daily from 10:00 am and is open until sunset.
Buses – 50, 193
Tourist bus – Red Route
Suggestion: After this pleasant walk in the cactus garden, you can go to eat or just have a beer at one of the two terraces near the garden.
– Hotel Miramar
– Terrace Martinez
Do not miss this beautiful open air museum dedicated to this type of exotic plants !
Montjuic Botanical Garden
Montjuic Botanical Garden was opened in 1999 and was intended to preserve the many Mediterranean species. The plants have been selected and grouped according to the criterion of "mediterranean family". Thus, the garden is structured over 14 hectares by 4,000 species from the five Mediterranean climate regions of the world: the Mediterranean basin, western California, the central part of Chile and the southernmost ends South Africa and Australia.
This garden is a good option to enjoy with the family, there are multiple activities offered throughout the year, from winter or spring itineraries to activities for children of 7-14 years.
Curiosities: In this beautiful garden, medicinal and horticultural plants were croped, nowadays a place has been preserved to grow typical Catalan vegetables. It also has the highest trees of Barcelona, which is very appreciated during the very hot summer days.
Where it is located: in the mountain of Montjuic, Carrer del Doctor Font i Quer, 2 – Barcelona
Hours: Monday to Sunday from 10.00 to 17.00.
How to get there: Bus: 13 – 55-150 red tourist bus route // // Metro L1 – L3 stop Plaça Espanya.
Approximately 3.50 euros
Parc Güell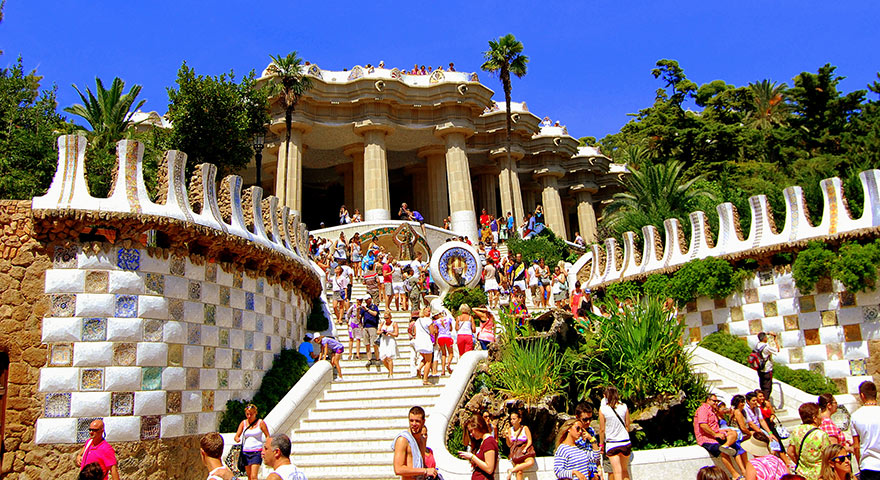 This park is well worth a separate more detailed article, but we also included it in this section because it is a lovely place to unwind from the bustle of Barcelona.
History: The construction started in 1900 from a collaboration of the architect Antonio Gaudi and his patron Eusebi Guell, the initial idea was to build a garden city with beautiful mansions for the Catalan bourgeoisie but the idea was abandoned and in its place they built a beautiful and original park which opened in 1922, since then it has become one of the main sights of Barcelona. In 1984 it was declared a World Heritage Site by Unesco.
In a large area of ​​over 17 hectares, the architect Antonio Gaudi sharpened his imagination to create wavy shapes, animal figures, columns Arbones-like, with small pieces of colored mosaics and more, all inspired by the forms of nature .
Our advice:
– Do not just visit it as a simple tourist park, get lost and wander all areas, you will discover beautiful views over the city of Barcelona.
– It is especially pleasant to have a drink in the bar located in the central square of the park, take a moment to relax.
– Visit the park early in the morning to avoid the crowds of tourists who come in mass during the day.
Prices and schedules
Open in summer from 8.00 to 21.30 and in winter from 8.30 to 18.00
The approximate price is about 8 euros. Children 7-12 years pay about 5 euros.
Where it is located: carrer d'Olot, 3. North Gracia district.
How to get there: Bus: 24 – 31-32 – 74-92 and 112 red tourist bus route // // Metro L3, stop Lesseps. For those who choose the to travel by metro you have to know that you will have to walk about 20 minutes to reach the entrance of Parc Güell.