Art Market in the square del Pi is situated in a unique setting, in the Gothic neighborhood and right next to the Church of Santa Maria del Pi. This in one of most beautiful squares in the city and since more than 35 years ago a group of artists gather on weekends to exhibit their works.
If you are a lover of painting, do not hesitate to visit this place, you will find very nice paintings at affordable prices.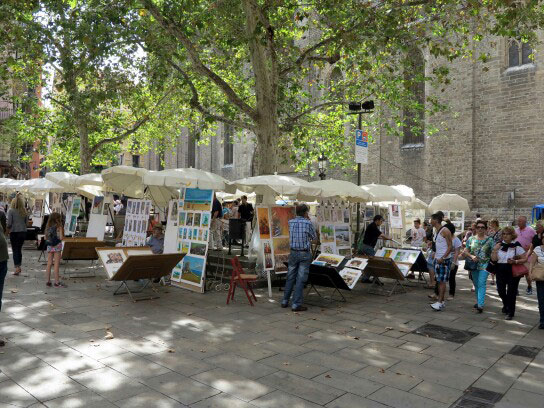 Reasons to go: To enjoy a unique atmosphere wrapped with history and beauty.
Where it is located: Between the Plaça de Sant Josep Oriol and the famous Plaça del Pi, it is in the Gothic zone near Las Ramblas and the carre rBanys Nous.
Metro: L3 / Green Liceu
Timetable:
All weekends, Saturdays from 11.00 to 20.00 Sunday from 11.00 h to 14.00 h.
If you want to dig deeper about the artists who exhibit their works you can consult their websites where you will get all this information. http://www.pintorspibarcelona.com
The Church of Santa Maria del Pi
Do not forget to enter the Church of Santa Maria del Pi, sometimes we focus on enjoying the art, but by the side of the square you will find a jewel of Gothic art dating from the V century, although it was newly built between 1319 and 1391. It stresses its cross vault, one of the most spacious in the country and the four windows of the church.
Curiosities:
They say that the place where was built the church of Santa Maria del Pi was a forest of pines and, in fact, before the church we can still see an example of them, it is also a resting place of many members of the nobility of Barcelona.